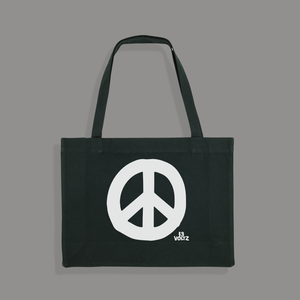 Large Black Shopper with peace sign print.
Weight: 300 gsm.

Material: 80% recycled cotton, 20% recycled polyester.
Top edge double folded for strength and clean finish.
Side soufflet.
Long handles with reinforced cross stitch.
Single edge stitch on all seams in matching body colour thread.
Width 49cm 
Length 37cm
Size is approximate and for guidance only. Product colour representation is only as accurate as the web-design process allows.